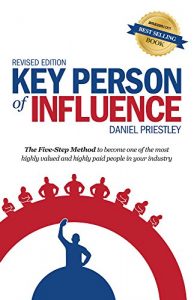 This year I've committed to reading 100 business books – my to-read pile was becoming dangerously high with so many superb recommendations from Extraordinary Business Book Club podcast guests. You can see the full list as it evolves on Goodreads – feel free to read along with me if any take your fancy.
The first of the 100 business books I've committed to reading this year was Daniel Priestley's Key Person of Influence: The five-step method to become one of the most highly valued and highly paid people in your industry. It's a bit of a cheat, this, as I have skim-read it before, but I've been meaning to read it properly for ages. It's a great example of a book that works brilliantly for the business behind it. Priestley sets out clearly and concisely his core methodology – the 5-step process is Pitch, Publish, Productise, Profile and Partnership (and the order is important). It's valuable in its own right, but its key aim is clearly to draw people into the full 40-week KPI programme. 
It's well written and structured, and although there's less detail in some sections that I'd have liked (there's not much detail on productising, for example) it is supplemented by online resources, which will neatly draw readers from the offline book into an online relationship. Lots for business book writers to learn from here. One thing that irritated me however was his mysterious insistence that the book has a 'hidden theme', which he keeps coming back to: 'Have you worked it out yet? Eh?' (that's not a direct quote). I assume this is a device designed to activate your brain to pay closer attention and to connect the lessons in the book with your own situation. Clever, but still, as I say, irritating.
For me the 'Aha!' moment came in the Partnership section, where this sentence leapt off the page: 
'One of the key differences between Key Persons of Influence and everyone else is that KPIs don't go out looking for clients, they go looking for partnerships.' 
For me, that insight alone was worth the cover price.
I can't imagine there are many entrepreneurs who WOULDN'T benefit from reading this: it's one of those books that will speak to you wherever you're at, and is valuable for entrepreneurs and experts at every level because of its progressive approach. Nothing here is startling original, but it's short and to the point and will almost certainly help you focus in quickly on the next step you need to take in your own business's development.